Council Newsletters
: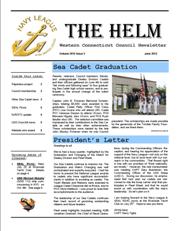 "
The
Helm
" newsletter is published periodically during the year. It was awarded First Place for Medium Sized Councils in the Donald M. Mackie Navy League Award competition in 2010; and a Bronze Mackie Award for 2021.
Click on "
The
Helm
" Newsletter most recent editions below (although the Lead Story is shown, you will get that entire edition, usually 6 pages, with all its articles):
DATE
LEAD STORY
Jun 2022 Annual dinner July VADM Buck
Mar 2022 Former WSC skipper at April meeting
June 2021 USS Churchill wins USS Arizona award
Mar 2021 Virtual meeting with Vic Mercado
Aug 2020 Three CT Councils Merge
Oct 2019 Cadet Training Presentations
Mar 2019 Dinner with VADM Franken
Aug 2018 All photo edition
Jan 2018 Dinner with RDML Mustin
Oct 2017 Cadet Presentation Event
June 2017 USNA sailboats to visit
Feb 2017 Dinner with VADM Gilday
Oct 2016 Bridgeport welcome aboard
May 2016 SEAL Picnic at Pugzee's Farm
Jan 2016 Annual Dinner Feb 11th
Sep 2015 Cadet Presentation Night
June 2015 Sea Cadet graduation and changing of the watch
Jan 2015 Cyber head to speak
Sep 2014 Author Gary Williams to speak
June 2014 Finneran Scholarships awarded
Mar 2014 RADM Weigold to speak
Note: Newsletters are Adobe Reader "PDF" files. They may take a few extra seconds to download depending on the speed of your web connection. If needed, you may obtain free Adobe Reader software by clicking
here.
If you would like any older copies of our Western Connecticut Council (WCC) Newsletter starting from April 2004, please
contact us
with the date(s) or subject matter of the article(s) in question.