Macintyre Scholarship Fund
:
The Macintyre Scholarship Fund for graduating Dealey Division sea cadets has been established in the name of the late Cadet CO, LCDR George Macintyre, NSCC. He volunteered for over 30 years and influenced several generations of young cadets for the better. The Fund's start-up resources came from donations from Mac's family, parents of former cadets, present and past staff of Dealey, Navy Leaguers and friends of the program. The intent is to grant a scholarship each year to the graduating cadet who exemplifies the traits Mac held as goals for the cadet program and exhibited himself. The hope is for the Fund to become large enough to be self-funding, with interest providing each annual scholarship.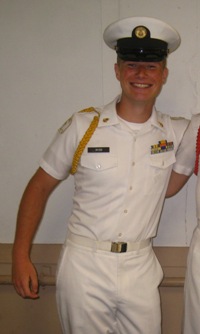 Sea Cadet Chief Petty Officer Kyle Webb, first scholarship recipient.
George Macintyre

All tax-deductible donations, large or small, to this very worthy cause are welcome, and can be sent to the Western CT Council NLUS c/o Stephen Gravereaux, 18 Westmere Avenue, Norwalk, CT 06853, and be marked as intended for the Scholarship Fund.

Or you may donate using a credit card or debit card or PayPal by clicking on the "donate" button below. Thank you.
To date, over $30,000 has been donated. Our sincere thanks to all who contributed.
The Navy League and the Western CT Council are IRS 501(c)(3) groups.
You will receive a written acknowledgment of any donations at year end. For further information or questions, contact us.