About us
: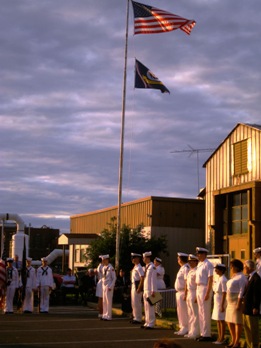 2022 CT Council Officers:
President…………....….................Joe Latwin
VP Sea Services……............Andrew E. Bisset
VP Membership….....…Robert (Pete) Kenyon
VP Youth Programs…......Stephen Gravereaux
Treasurer...................................Richard Koch
Secretary……………........….....Tara Edwards
Communications ...........Edward Fitzgerald

2022 CT Council Board Members:
Robert Perkin
Jennifer Stannard
Gerard Tighe
John Weigold
Tess Oxenstierna
Emeritus member:

David Ellis


Sea Cadet CO Board
Members:


P. Alan Gerard, CO Dealey Division, Stamford
Colin Bernard, CO Edson Division, New Haven
Keith Cross, CO Nautilus Division, New London
Stepehen Smith, CO Barque Eagle Division, Plainville


For a brief summary of our mission, please see the "Welcome Aboard" section on our home page. We also have a slide presentation that we prepared for prospective members and contributors. In addition, we have started a college scholarship program for eligible graduating Dealey Division Sea Cadets in the name of the late George Macintyre.


To contact us, please send us an email. We would be pleased to answer any questions you might have, and to further discuss our programs and activities.
The Navy League and the Western Connecticut Council are 501(c)(3) non-profit organizations under IRS regulations.
Thank you for your interest in the Navy League and in our Council.
Other Councils are welcome to contact us for assistence in doing their own websites at zero out-of-pocket cost. See Website Set-up Guide here.
Special thanks go to our web hosting company, DreamHost located in California, for their generous program of free domain registration and hosting for non-profit 501(c)(3) groups, such as ours. You guys rock.
Privacy Policy
The Western CT Council of the Navy League respects the privacy of its members and other visitors to its website. To protect online privacy, we have implemented the following Privacy Policy:
Information Collection and Use
: we do not retain any personal information from users browsing this website. Only aggregate data, such as number of hits to the website and individual pages, are retained. For those who choose to donate money via our website, we ask for their name, address, and email address so that we may acknowledge any donations for tax deduction purposes. We take reasonable efforts to safeguard this information and we do not share it with any other organization.
Credit Card Information
: we do not collect any credit card information.
For

those pages that

allow users to donate, we use a third party service from PayPal. Therefore any credit card information that is entered is managed by them and is not visible to us nor does PayPal share it with us. See PayPal's privacy policy for how they handle personal information.

Email
: email addresses voluntarily provided to us by Council members and others are never given to any outside organization for any purpose.

Internally, such email addresses are used solely for distribution of our quarterly newsletter, The Helm, for announcements of Council events, and to inform members of their membership status.

Upon request via our "contact us" web page, we will remove an email address from our list.
Contests, Giveaways and Surveys
: we do not conduct such online offers, contests or surveys;
Use of Cookies
:
cookies are pieces of information that a website transfers to a visitor's hard drive for recordkeeping purposes.

Cookies are found on most major websites.

Our Council website itself only uses one cookie from an external company, from the visitor tracking service "StatCounter".

This allows us to obtain useful summary information on such items as which pages are visited, how often, for how long, in what order, etc.

We use this information to help make decisions on page design, order, and the like.
In addition, some embedded video content carry its own cookie.

Currently, only two of our web site pages have such a cookie; that is the USS Connecticut home page that has two embedded YouTube videos and the "slide presentation" page that has one cookie. Most browsers are initially set up to accept cookies. You can reset your browser to refuse all cookies, or to indicate when a cookie is being sent.

We have set up our site such that it will work properly whether you accept or reject cookies.


Links to Other Sites
: we include links to other websites. These sites are beyond our control and may send their own cookies to users, collect data, or solicit personal information. Please consult the privacy statement of individual sites that we link to for more specific information.
Telemarketing
: we do not telemarket.
Questions
: please direct any questions or concerns about our privacy policy using our "contact us" page.