Past Churchill deployment news
(2015):
For details of the 2020 - 2021 deployment, click
here
to see the ship's FaceBook page for latest news and photos.
Our CT Navy League Council-adopted ship, USS Winston S. Churchill (DDG-81) was underway for a new deployment with USS Theodore Roosevelt (CVN 71) carrier strike group, leaving the USA on March 9, 2015 for a planned 8 months. Check back here for more news from this latest deployment as it unfolds.
To see details of Churchill's last deployment in

2012 - 2013

click

here

.
Other deploying ships on March 9, 2015 were Norfolk-based USS Normandy (CG 60) and USS Forrest Sherman (DDG 98), and Mayport-based USS Farragut (DDG 99). The group will operate with US 6th and 5th fleets during the deployment.
The Roosevelt just underwent a nuclear refueling and upgrade that included the first carrier installation of the new Naval Integrated Fire Control - Counter Air (NIFC-CA, pronounced nif-kah) system that connects sensors on multiple ships and on E-2D Advanced Hawkeye aircraft to allow a greatly extended lethal range against enemy targets.
The deployment is expected to last 8 months. Roosevelt will return to San Diego which will be her new homeport. Churchill will return to Norfolk. While all four escort ships deployed as scheduled on March 9th, Roosevelt herself wad delayed by silted sea water pipes leading to the ship's fresh water evaporators. Roosevelt delayed deployment to March 11th and then met up at sea with her escorts for the trans-Atlantic voyage.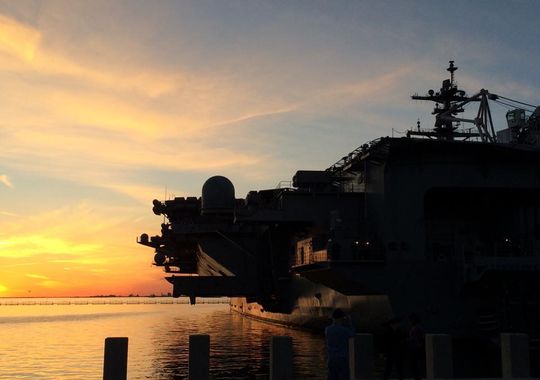 Sunrise in Norfolk on March 9th, deployment day.
Timeless Navy scene: goodbyes for a USS Normandy sailor and his family on March 9th in Norfolk.
"Single up all lines": Churchill preparing to leave the pier on Mar 9th, 2015.
Family and friends wave goodbye as Churchill's engineers answer bridge orders for ahead power, as the deployment starts.
Our Council wishes all those deploying with the Roosevelt strike group in defense of our nation, and especially the crew and officers of the Churchill, full success in their mission and a safe return home. We appreciate the real sacrifices they and their families are making.
News: first port visit: Roosevelt and Churchill arrived in Portsmouth UK on March 22nd. Churchill has a British officer assigned as Navigator. Roosevelt was too large to berth in the harbor, so she anchored out. Churchill tied up next to a pier. While in Portsmouth, a number of ship's officers received a special private tour of the Churchill War Room museum in London. Both ships departed Portsmouth on Mar 27th.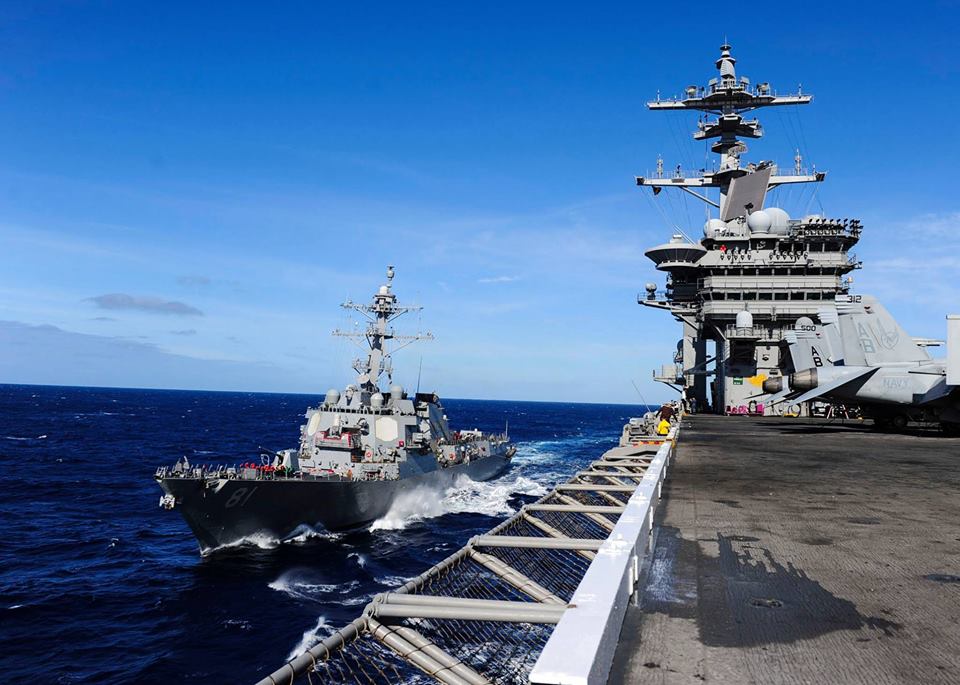 In this photo, Churchill is shown going alongside Roosevelt for underway replenishment of fuel during mid-Atlantic crossing.
In other news, Churchill was awarded her 5th consecutive Battle "E" efficiency ribbon, making her the only such ship currently in the Navy. Well done, Churchill!
It was reported on April 20th, that the Roosevelt and accompanying escorts, including the Churchill, where operating off Yemen. For details,
click here.
On July 9, 2015 the Saudi Defense Minister flew aboard Roosevelt for a visit, while in company with Churchill. For details, see
here.
On July 28th, USS Normandy (CG 60) issued a 2 minute action video from the Arabian Gulf while in company with Churchill and Roosevelt. Normandy is a guided missile cruiser, at 9,800 tons displacement somewhat of a bigger brother to Churchill's 9,300 tons. Both ships are based in Norfolk and both were built by Bath Iron Works in Maine. See Normandy video on You Tube
here.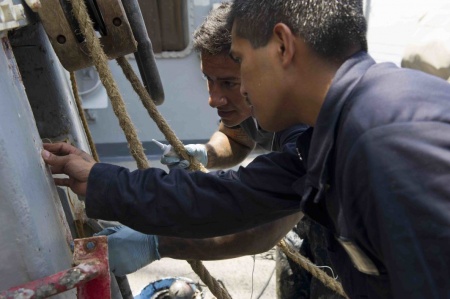 In photo at right, Boatswain's Mate Seaman Kevin Duque of New York and Electrician's Mate 3rd Class Vincent Hermogino, from Virginia Beach, conduct king post maintenance at sea on Churchill on July 27th.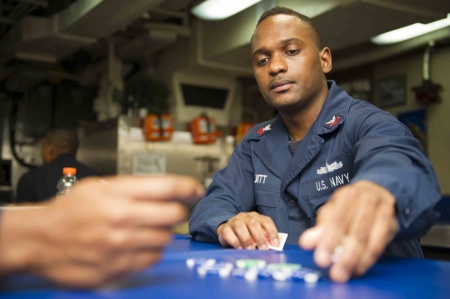 At left: Ship's Serviceman 1st Class Willie Truitt, from Alabama, plays poker during a morale welfare and recreation (MWR) event at sea on Churchill on July 25th.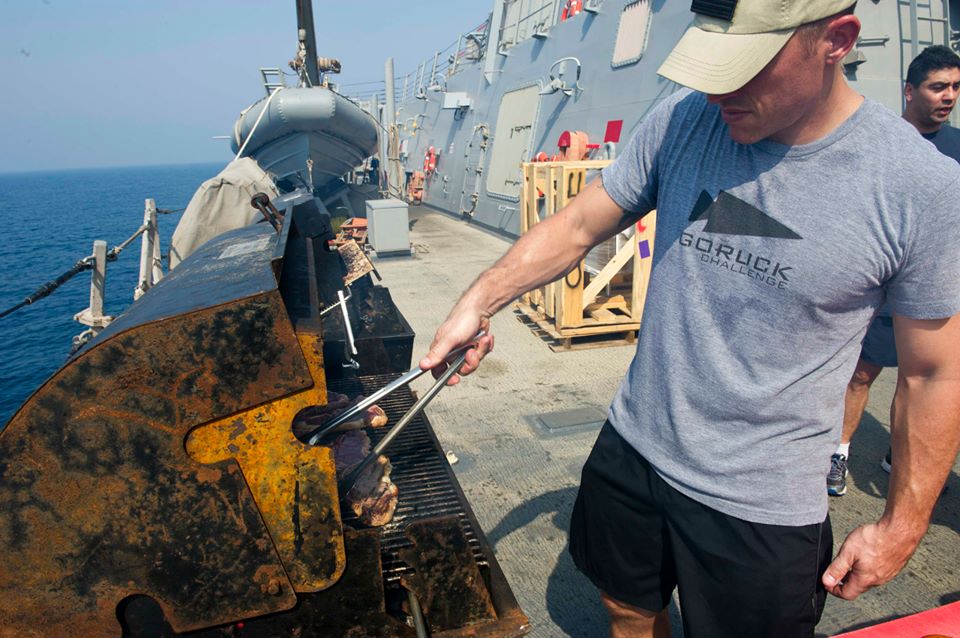 At right:: Sonar Tech 1st Class Terry Waters, from Kentucky, prepares food for the Churchill crew during a "steel beach picnic" in the Arabian Gulf on August 23rd. For more photos of this event, click
here.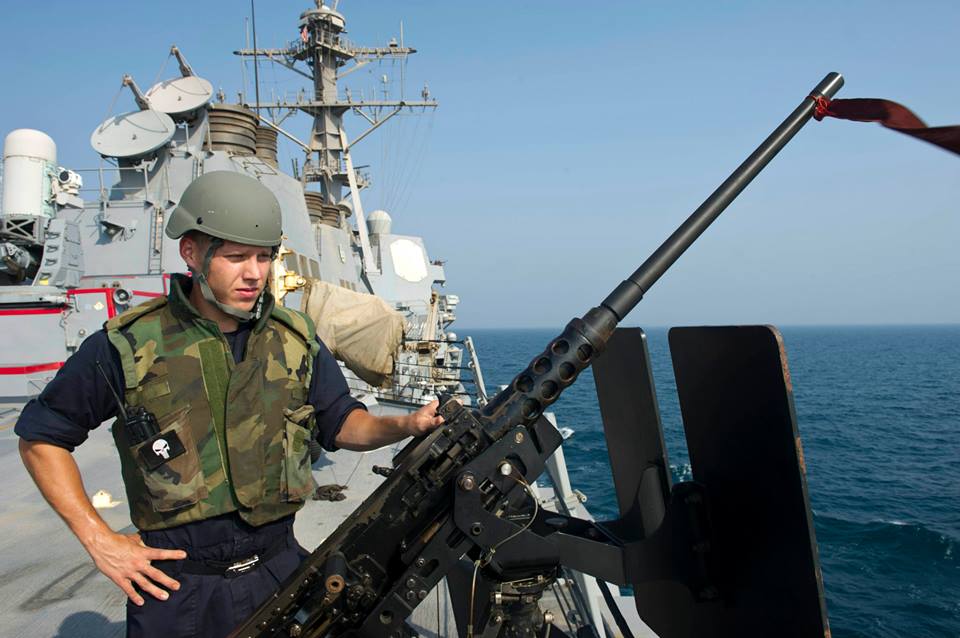 At left: Fire Controlman 3rd Class Andrew Branley from Chatham, New York, mans one of the ship's 50 caliber machine guns during a ship in company defense exercise in the Arrabian Gulf on August 20th.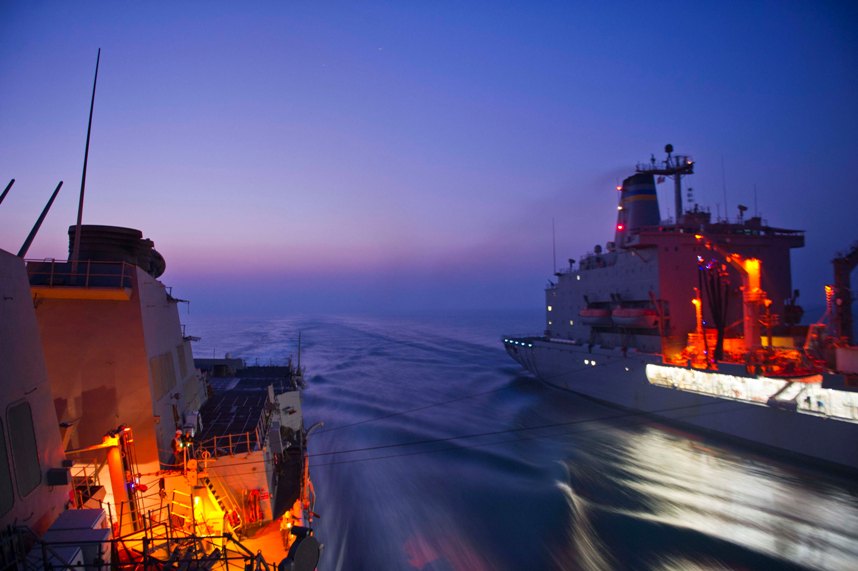 Churchill (left in photo) resupplies at sea in Arabian Gulf on August 18th. Supply ship is oiler USNS Pawtuxent (T AO 201). The Roosevelt carrier strike group operated with Coalition forces to conduct air strikes against terrorists in Syria and Iraq.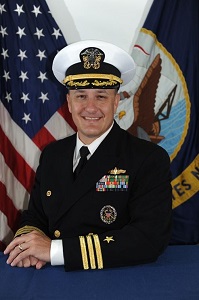 Commander Paul Allgeier, at left, became Churchill's Commanding Officer (CO) in a change of commnd ceremony held onboard the ship while in Khalifa Bin Salman Port, Bahrain on September 8th. Captain Allgeier had been Churchill's Executive Officer (XO), and he relieved outgoing CO Commander Christine O'Connell. We wish them both the best in their new assignments, as well as to Churchill's new XO, Commander Tom Van Scoten.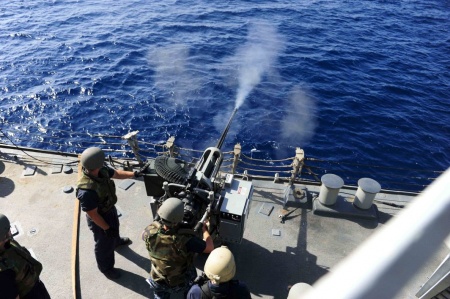 25mm chain gun practice firing in Gulf of Aden on Oct 7th
As planned, carrier USS Theodore Roosevelt (nicknamed "The Big Stick") departed the Arabian Gulf and transferred from 5th Fleet to 7th Fleet on October 13th. Roosevelt will continue to transit the Pacific enroute to her new homeport in San Diego. Roosevelt conducted over 1,800 air sorties against ISIS targets in Syria and Iraq before departing the area. While USS Normandy accompanied Roosevelt into the Indian Ocean, USS Churchill moved to the 6th Fleet area of operations in the Med.
With Roosevelt's departure, this marks the first time since 2007 that the Navy has not had a carrier operating in the Arabian (also known as Persian) Gulf. The next carrier, slated to be USS Harry S. Truman (CVN 75), isn't expected to arrive until this winter, although a date has not been announced yet. The planned break in carrier operations was due to maintenance and availability timing after years of extended carrier group deployments to the middle east. For more details see
this Naval Institute article.
Churchill was slated to end her 8 month deployment and return to her Norfolk homeport before the arrival of the Truman Strike Group.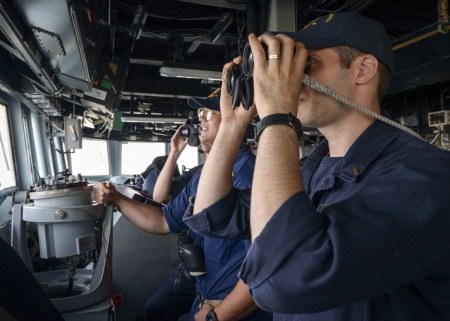 Ensign Jason Thaanum from Long Island, NY, on bridge watch while transitting the Suez Canal on Oct 13th. Churchill was transitioning from 5th Fleet to 6th Fleet areas of operations.





Homeward bound
: The ship was in Piraeus, the port of the city of Athens, Greece, for 4 days ending Oct 20th. The crew should have enjoyed some well earned liberty in this interesting part of the world! Liberty is hard to come by while in the Arabian Gulf, where Churchill spent much of the prior months. Here is a
link
to a 4 minute YouTube video of the ship getting underway from Piraeus on Oct 20th.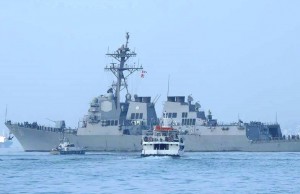 USS Churchill getting underway from Piraeus, Greece, on October 20th, 2015.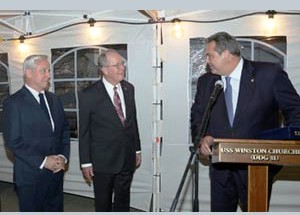 While in Piraeus, the ship hosted a reception that included, in photo at right: US ambassador to Greece David Pearce, US Senator L. Alexander (Tenn.), and Greek defense minister P. Kammenos at podium. Five other US Senators also attended: T. Cochrane (Miss.), S. Collins (Maine), M. Enzi (Wyoming), J. Isakson (Georgia), and D. Coats (Indiana). Navy warships have traditionally had such diplomatic assignments as an adjunct to their primary missions.
.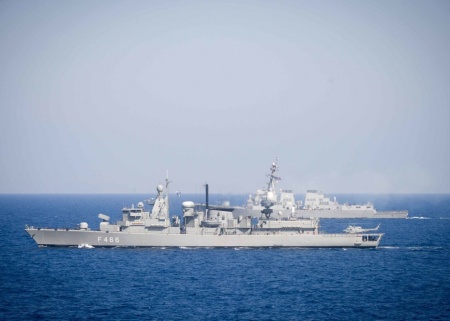 Churchill (in background) exercising with Hellenic navy frigate HS Nikiforos Fokas (F466) in the eastern Med on October 21st. Fokas was originally commissioned in 1982 in the Dutch navy, and was transferred to Greece in 2005.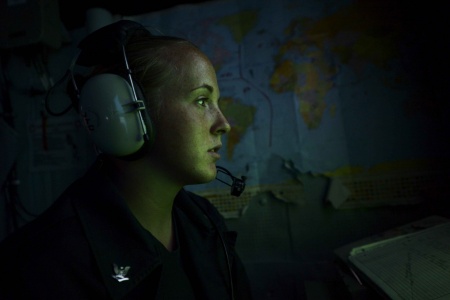 Sonar technician (surface) 3rd class Carissa Freeman, from Woodstock Georgia, on watch at sea on board Churchill on Oct 20th.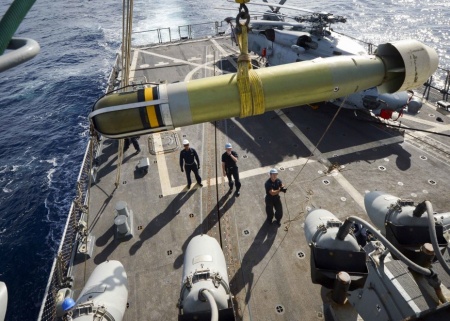 Mark 54 torpedo being hoisted over the ship's flight deck while at sea on Oct 24th. The Mark 54 is an anti-submarine weapon that can be fired from deck level torpedo tubes or from anti-sub aircraft.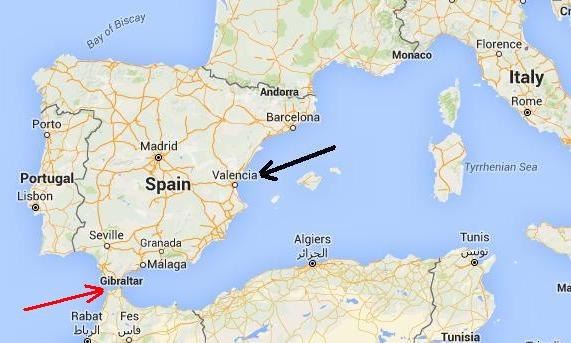 Churchill had a 3 day port visit to Valencia, Spain (see black arrow on map), starting October 25th.
The ship transited the Strait of Gibraltar (red arrow on map) and entered the Atlantic heading westward on October 29th. Conducted various training exercises at sea.
USS Winston S. Churchill returned to her homeport of Norfolk, Virginia on Saturday November 7th at 1pm.
Welcome home, Churchill!



Bravo Zulu to all aboard for your dedicated service on deployment for 8 months in our defense.


Churchill shown at left pierside in Norfolk, November 7, 2015
.