Churchill deployment news
(2012-2013):
Below is a summary of Churchill's overseas deployment in

2012 - 2013

.
Our Council-adopted ship, USS Winston S. Churchill (DDG 81), departed her home port of Norfolk on June 20, 2012 with the

USS Eisenhower (CVN 69) carrier strike group to support the Navy's 5th and 6th Fleets for about 9 months. This section of our website contains photos and news updates from the ship on deployment.
Last deployment news: the ship went through the Suez Canal on March 8th, 2013 and thus shifted from US 5th Fleet to 6th Fleet areas of responsibility, on the way to returning home after over 9 months on deplyment. Before transiting Suez, the ship had a port visit in Aqaba, Jordan. On March 15th, after having passed through the Strait of Gibraltar into the Atlantic, the ship arrived in Lisbon Portugal for a visit. Churchill returned to her homeport of Norfolk on March 28, 2013. Welcome home and well done!

Photo below right: briefing local cadets in Lisbon March 15, 2013.

After crossing the North Atlantic with the Ike strike group, Chuchill made notable stops in the small Mediterrean countries of Montenegro, on July 6 to 9, and Albania, a NATO ally, on July 11 to 14. Then the Group sailed through the Suez Canal on July 18.
Click on links below to read deployment news stories from the ship:
Photo: the family of the ship's Executive Officer, Commander Christine O'Connell, bids farewell as the ship departs Norfolk on June 20th. Children are her daughter, niece, and nephew. Photo by Norfolk TV channel 3. Commander O"Connell was subsequently promoted following the deployment and is now Churchill's Commanding Officer.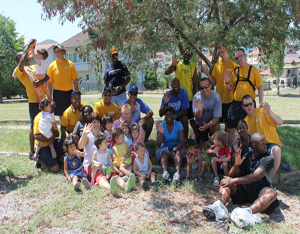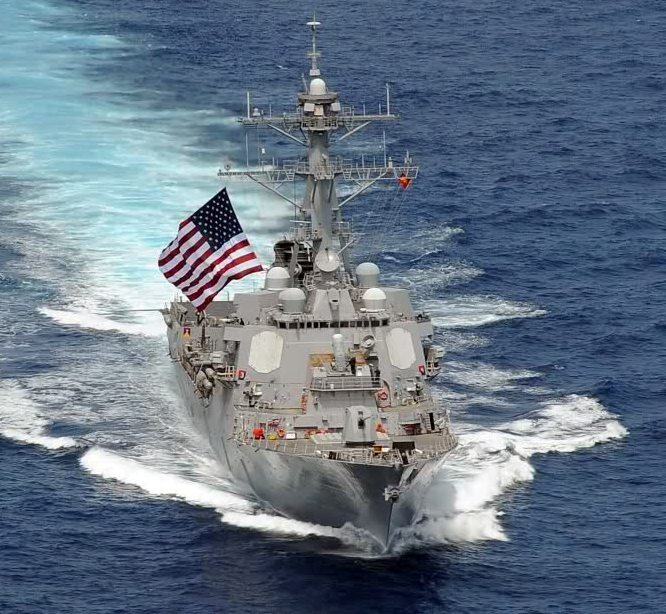 With orphans in Albania (see story above); Underway in North Atlantic, Jun 26th