SSN 22 current Commanding Officer: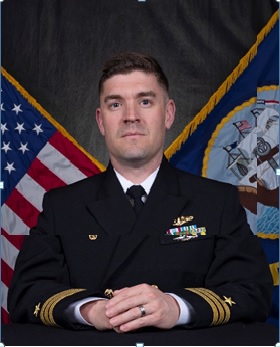 Commander Jonathan Baugh
A native of Fairfax, Virginia, CDR Baugh enlisted in the U.S. Navy in 1998 where he served in the U.S. Navy Ceremonial Guard in Washington D.C. till his selection for the Seaman to Admiral Program. CDR Baugh graduated from the University of Mississippi in 2004 with a Bachelor's in History and has earned a Master's degree for Old Dominion University in Engineering Management in 2010.
CDR Baugh's operation assignments include Executive Officer on USS NORTH CAROLINA (SSN 777) where he completed an EDSRA and return to service. He served as Navigator/Operations Officer on USS PENNSYLVANIA (SSBN 735(G)) completing an ERO and 3 Strategic Patrols. Additionally, he served on USS MICHIGAN (SSGN 727(B)) and completed the SSGN conversion and completed 2 WESTPAC deployments.
CDR Baugh's staff assignments include serving as the Executive Assistant to Commander, Submarine Forces in Norfolk, VA. He was assigned to U.S. Africa Command in Stuttgart, Germany where he served as West Africa OPT lead planner for the J35. He also served as a Maritime Officer and Lead Trainer in the J33 Branch at U.S. Northern Command in Colorado Springs, CO.
CDR Baugh has been married to his loving wife, Leah Baugh of Reston, Virginia, since 1999 and has 4 wonderful children.
***************
Rounding out the submarine's top leadership:
The Executive Officer is LCDR Tyler Bristol
The Chief of the Boat is Master Chief Paul Walters.
***************
Help us support the submariners of our "adopted" submarine, USS Connecticut (SSN 22) by becoming a member of the "Double Deuce" Club; see details here