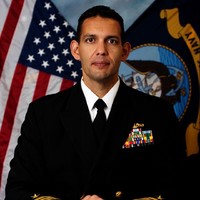 Commander Cameron Aljilani, Comanding Officer
Commander Aljilani is a native of Anaheim, California. He graduated from California State University, Fullerton with a degree in Physics. Following graduation, he was commissioned via Officer Candidate School in 2001.

After completing the nuclear power training, Commander Aljilani reported to USS HELENA (SSN 725). During his time on board, HELENA completed two Western Pacific deployments. From October 2009 until May 2012, he served as Combat Systems Officer on board USS BUFFALO (SSN 715) forward-deployed in Guam. During his tour BUFFALO earned the Battle "E" in 2011 and 2012 and was awarded the Arleigh Burke Fleet Trophy in 2012. From January 2015 to June 2016, he served as Executive Officer on board USS NORTH DAKOTA (SSN 784) in Groton, CT. During his tour he completed a short overseas deployment to employing the Navy's first UUVs from a deployed submarine.

Ashore, Commander Aljilani served as the Submarine Operations Officer for Destroyer Squadron Fifteen forward-deployed in Yokosuka, Japan, as the Submarine Operations Training Officer at Tactical Training Group, Pacific in San Diego, CA, and completed a Joint Tour with United States Africa Command (USAFRICOM) as a Counterterrorism Planner and Executive Assistant to the AFRICOM J3, Director of Operations. During his time ashore he completed his Master of Engineering Management degree from Old Dominion University and completed the requirements to become a Joint Qualified Officer (JQO). He currently serves on the Navy Staff (OPNAV N97, Undersea Warfare Division) as Speech Writer and Strategic Communications lead.

Commander Aljilani is entitled to wear the Defense Meritorious Service Medal, Navy Commendation Medal (seven awards), Joint Achievement Medal, Navy Achievement Medal (two awards), and various other unit awards. He married and has two young children.
Commander Aljilani took command of USS Connecticut on August 8th, 2019, relieving outgoing CO Commander Carl Trask. See this link for details of the ceremony.