PRIOR USS CONNECTICUT'S:
There were 4 prior USS Connecticut's: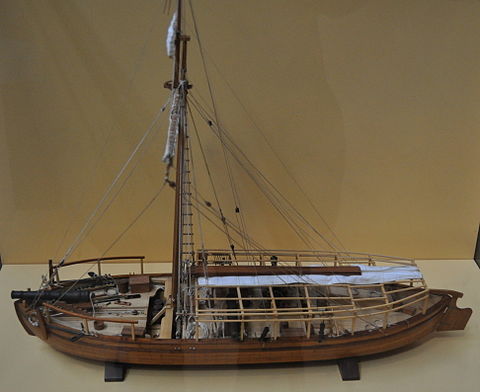 #1: Connecticut (1776)

was a "gundalow" (essentially a wooden flat bottom cargo barge with cannon added). This vessel was technically not a "USS" (United States Ship), as she served before there was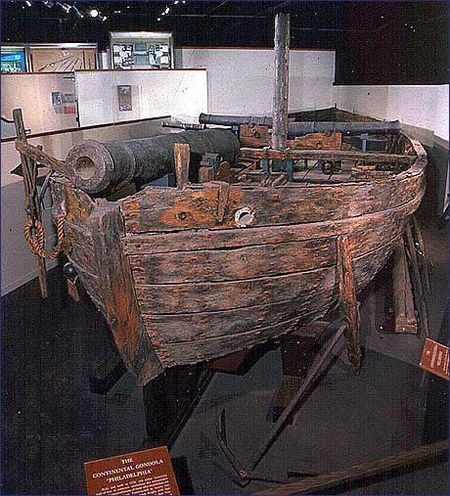 a US. She was built for the Continental Army in Skenesborough, N
Y in 1776 for service on Lake Champlain under General Benedict Arnold's c
omman
d. She served in th
e Battle of Valcour Island, October 11 to 13, 1776, that delayed the Britis
h advance down the Hudson towards NYC, aiding in the great American victory at Saratoga. The vessel was burned on October 13th to avoid capture. It was roughly 55 feet long, 15 foot beam, displac
ing 30 tons, with a single lanteen sail and crew of 45. Above left is a photo of a model of a sister ship, the Philadelphia, that also saw action at Valcour and was sunk; but raised from the lake bottom in 1935 and is on display in Washington D.C. (photo at right).
#2: USS Connecticut (1799 to 1801)

was a small three masted wooden sailing frigate, built in Chatham, Connecticut and launched into the river that bears her name on June 6, 1799. She was commissioned and set sail for duty on October 15, 1799, under the command of Captain Moses Tryon. She cruised successfully in the West Indies for a year during the Quasi-War with France, protecting American commerce, capturing
4 privateers, destroying 2 others, and recapturing 7 US merchantmen. She arrived back in Connecticut at
New London in October 1800. She was sold in NYC in 1801 for $19,300 and had a career as a merchantman until 1808 when she was scrapped. The ship was 125 feet long, beam of 32 feet, 548 tons, with about 180 officers and crew, including embarked Marines. Armament consisted of 26 cannons firing 9 and 12 pound balls. In size and armament, she was not in the same category as the famous large US frigates of the day, most notably USS Constitution, but had a reputation for being a fast sailor.
#3: USS Connecticut (1861 to 1865)
was a large side wheel iron hull steamer acquired by the Navy in July 1861 shortly after she was launched in New York. She displaced 725 tons, with a length of 252 feet and beam of 38 feet; top speed of 10 knot
s with 166 man complement. She carried four 32 pound cannons and one 12 pound
rifled gun. Her primary mission
in the Civil War was to prevent ships from penetrating the Union blockage of southern ports. She st
eamed
as far west as Galveston and as far south as Panama on multiple wartime cruises. She was credited with destroying one vessel and capturing 9 more, at least 2 of which operated under the British flag. She was decommissioned in August 1865 at the Philadelphia Navy Yard and sold in September, but her subsequent fate, either scrapped or used for commercial purposes, is unknown.
#4: USS Connecticut (BB-18) (1906 to 1923)

was a 16,300 ton battleship, the first of her class of six, launched in September 1904 at the NY Naval Shipyard; commissioned 2 years later a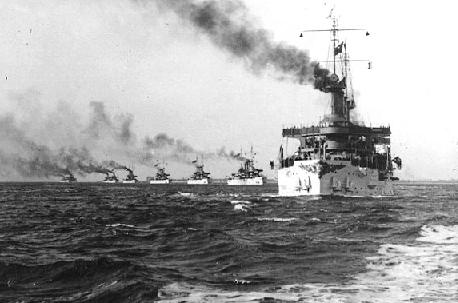 s the most advanced ship in the Navy. With a length of 456 feet, beam of 76 feet, and draft of 25 feet, she had
twelve coal-fired 250 psi steam boilers
, twin shafts,
speed of 18 knots, and a complement of 827. Her main armament was four 12 inch guns (one shown below), eight 8 inch guns, and twelve 7 inch guns. She also had four 21 inch submerged torpedo tubes (so "Double Deuce" is not the first Connecticut to carry torpedoes). Her armor was up to 11 inches thick.
Her first skipper, Captain William Swift, was relieved for running the ship aground off Puerto Rico in late
1906, causing hull damage. That did not stop the Navy from selecting the battl
eship as the flagship of President
Teddy Roo
sevelt's "Great White Fleet". She thus led
15 other battleshi
p
s in an around-the-world 53,000 mile cruise from late 1907 to February 1909 (see photo
abov
e with BB-18
leading). Afterwards, the ship was for a time flagship of the Atlantic Fleet, and con
ducted numerous exe
rcises and cruises. At the end of WWI, the battleship made 4 voyages to Europe to return troops from France, carrying over 4,800 men in all. In 1921, she was transferred to the Pacific Fleet, operating on the West Coast. By then, the ship was obsolete, having been overtaken by the all big gun battleships, the first of which was HMS Dreadnaught. Under terms of the Washington Naval Treaty, that set tonnage limits on signing nations, the ship was designated to be sold for scrapping, which was done in March 1923 for $42,750.

Summary: How does the newest USS Connecticut (SSN 22) match up to her predecessors above? With a nuclear power plant, there is no real comparison in speed or endurance. And the ship's sensor and weapon systems have range and effectiveness that the captains of the four prior ships could probably not even dream of. For simple numbers, SSN 22 is 353 feet in length, 40 foot beam, 36 foot draft, displacing roughly 9,000 tons, so smaller than BB-18. But, built at Electric Boat in Groton, and commissioned in December 1998, the latest Connecticut is truly a modern marvel.