The story of a WWII wooden minesweeper,
USS YMS 339,
and her skipper and crew in the Pacific.
Attached is an original history completed in 2009, based on multiple sources including ship's log research at the National Archives, the discovered diary of one crewmember, recollections of others, and familiy photos maintained over the years.
Follow Maurice E. Fitzgerald, a 29 year old lawyer from Milford, Massachusetts, who had never gone to sea but who volunteered to become a Navy "90 day wonder". He went on to skipper a newly-built 136 foot wooden minesweeper and her 33 man crew, seeing combat in 9 amphibious landings in the Pacific. They were targeted by enemy shore batteries, multiple kamikazes, deadly mines that in one afternoon sank 2 minesweepers in close company, and accidentally by a friendly aircraft. At Balikpapan, Borneo, in 18 days of continuous sweeping against an enemy held shore, the longest in history, they were among the only WWII minesweeper men to earn the Presidential Unit Citation for "extraordinary heroism" in action.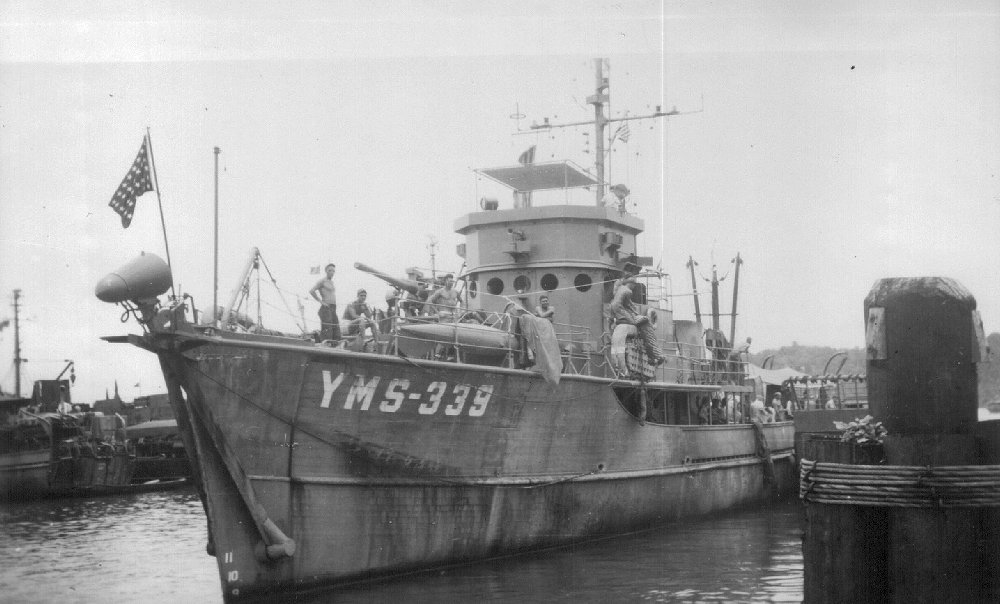 Each chapter is an Adobe PDF file that can be downloaded by clicking on each link below:
Chapter 1: A new warship
Chapter 2: 90 day wonder
Chapter 3: Of mines and men
Chapter 4: Under the southern cross
Chapter 5: Call sign November Quebec Kilo Oscar
Chapter 6: All glory is fleeting
Chapter 7: The baseball beaches of Borneo
Chapter 8: Victory and peace
Chapter 9: Three flags - and epilogue