Homeport
: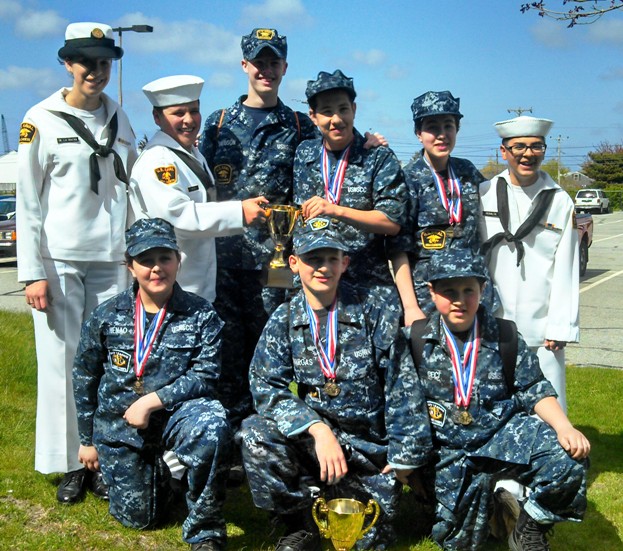 Upcoming and recent events:
Holiday Dinner & annual meeting:

was held Dec. 4th at Riverside Yacht Club. Featured speaker was LT Stewart Latwin, USN, former Sea Cadet, Naval Academy grad, and Knighthawk helo pilot. See dinner flyer here.
Talk by Medal of Honor recipient:

Monday November 4th: West Point graduate, successful business-man, Ridgefield resident, and recipient of the Medal of Honor as a company commander in Vietnam, Paul Bucha was an inspirational speaker for Cadets and guests.
Sea Cadets on magazine cover:

Our Dealey Division Cadets are the subject of an extensive and positive cover story in the current edition of Stamford Plus Magazine, available here. Photo at right shows the cover.
Marine Center news:

as detailed in our recent newsletters, our Sea Cadet's long-standing home at the Marine Center on Magee Avenue in Stamford is at risk of being lost to a developer. To get more information and the latest updates, please click here.
Sea Cadets win swim meet:

our Dealey Division cadets swept the competition at the New England Swim Meet May 4th. The Cadets took 1st in all events except one, where they finished 2nd. Brave Zulu to all the swimmers and to cadet staff Ensign Boliakis who coached the team. Winners in photo above.
Welcome home, Churchill!

our council-adopted ship, USS Winston S. Churchill (DDG-81), returned to her homeport of Norfolk following a lengthy 9 month deployment on March 28th. For details of the deployment, click here. Bravo zulu!
Welcome aboard:
The Navy League has three missions: to enhance the morale of active duty personnel and their families; to inform Congress and the American public on the importance of strong sea services; and to support youth programs that expose young people to the values of our sea services.

The Navy League is open to all citizens who have an interest in United States sea services. Founded with the support of Teddy Roosevelt over 100 years ago, it is a vital and forward-looking organization. Local Councils around the world, such as ours, are dedicated to forwarding the goals of the League including support of our local youth programs, the Stamford-based Dealey Division Sea Cadets and Naval Junior ROTC programs at Bethel and Brien McMahon High Schools. These programs, open to local youths whether or not they plan to later become active duty service members, foster leadership, self-confidence, and informed patriotism and citizenship.

Our Western Connecticut Council proudly adopted an active duty Navy ship, the Norfolk-homeported guided missile destroyer USS Winston S. Churchill (DDG-81). We also have a strong connection to the Navy SEAL community.

We have a

scholarship fund

for graduating Sea Cadets, named in honor of the late George MacIntyre. Please consider contributing.

Our Western CT Council sponsors periodic outside speakers on various topics, meets with elected officials to discuss sea service issues, supports local volunteer programs such as the annual "Rebuilding Together", and in general enjoys the company of our fellow Navy Leaguers. See past issues of our quarterly "Helm"

newsletters

for details of our recent events.

Membership in the Navy League includes a subscription to the monthly "Seapower" magazine, that covers efforts at the national level, and topics of interest to the sea services. If you are not currently a Navy League member, please consider

joining.