Annual Meeting and Dinner March 24, 2018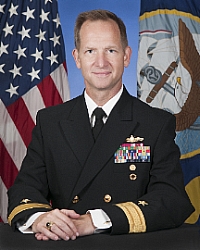 Our special guest speaker will be Rear Admiral John Mustin, Deputy Commander, Naval Surface Force, U.S. Pacific Fleet. For details, see our announcement flyer by clicking here.



Please make reservations and payment below; and consider making a tax deductible donation to pay for one or more Sea Cadets, NJROTC Cadets, or SEAL Candidates to attend.

You may use either a credit card or PayPal.

Note that "

Council member" means a current Navy League member or their spouse/partner

.

All others please pay the "non-member" amount

by choosing that below.

Becoming
a Navy League member is easy: go to our homepage and click "join/renew" near the top. Dues start as low as $25 per year and include a subscription to SeaPower monthly magazine, our local newsletter, and invitations to all local events. We'd be pleased to welcome new members.

Dinner prices:

Members and their spouse/partner: $60 each
Non-members: $75 each
Donations for Cadet/Candidate dinners: $30 each
After you add each item to your cart, you will be taken there. To add more items, click "continue shopping" at the top of the cart page to return here.
EVENT HAS ALREADY OCCURRED. NO LONGER POSSIBLE TO MAKE RESERVATIONS.

All transactions are done on a secure site run by PayPal; our Navy League Council does not have access to your credit card number or PayPal account number.